2018 State Budget 'Breakdown' Dinner Forum
30 May 2018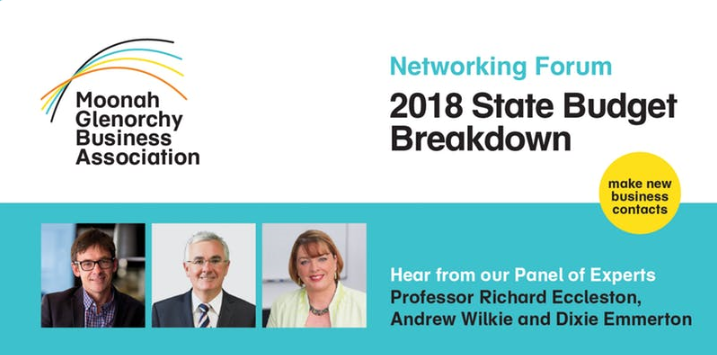 Join Dixie Emmerton, Managing Director of Centre for Tasmanian Industry, at the 2018 State Budget Breakdown Dinner Forum by Moonah Glenorchy Business Association and hear about all the essential State Budget news for your business. Learn what it will mean for you and how you can make the most of it.
Dixie will join a panel of independent experts that will help you see how this State Budget will affect your business (and your family) and have the opportunity to ask questions for your individual situations in a Q&A.
Along with Dixie the panel will include Richard Eccleston (a well renowned political scientist who specialises in tax and budget politics - UTas) and Andrew Wilkie (Federal Member for Denison).
This is an amazing opportunity to connect with other business owners and managers. Relax over some pre-dinner drinks and a two course meal. Then listen to the experts tell you all about the small business/industry winners and losers from the 2018 State Budget.
The Dinner Forum will be held on Thursday, 14 June 2018, 6:30pm to 9:30pm at the Claremont Golf Club, 1 Bournville Crescent, Claremont. Tickets are $40.00 per person and includes a two course dinner.
There are limited seats available and pre-bookings for this event are essential.
For more information or to book your ticket please select this link > BOOK NOW.